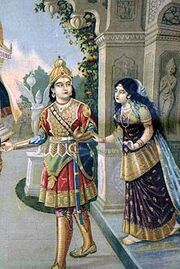 Abhimanyu
was the son of
Arjuna
and
Subhadra
. He was a member of the
Kuru dynasty
. He was heir to
Hastinapur
until died during the 13th day of the
Kurukshetra War
, at the age of 16. His son, born after he died,
Parikshit
, became heir, and eventually king, in his place.
In a version of the story, Abhimanyu is a reincarnation of one of Chandra's sons. Because the Moon god did not want to be departed from his son for so long, Brahma agreed that the reincarnated spirit would only live for sixteen years.
Family
Ad blocker interference detected!
Wikia is a free-to-use site that makes money from advertising. We have a modified experience for viewers using ad blockers

Wikia is not accessible if you've made further modifications. Remove the custom ad blocker rule(s) and the page will load as expected.