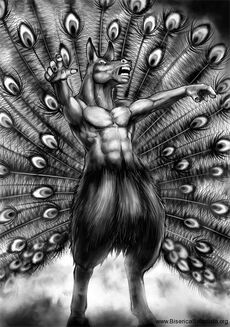 Adramelech is considered a demon in some Judeo-Christian traditions.
Overview
Edit
He appears in Milton'sParadise Lost, where Adramelech is a fallen angel who, along with Asmodeus, is vanquished by Uriel and Raphael. According to Collin de Plancy's book ondemonology, Infernal Dictionary.
Adramelech became the President of the Senate of the demons. He is also the Chancellor of Hell and supervisor of Satan's wardrobe.  Adramelech is generally depicted with a human torso, a mule's head, a peacock tail, and the limbs of a mule or peacock.