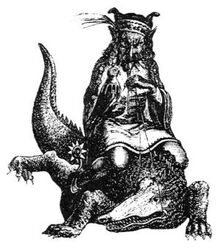 Agares (also known as Aguares or Agreas) of the order of the virtues who governs thirty-one legions, is a Duke, ruling the eastern zone of Hell.
He appears riding a crocodile and carrying a sparrowhawk. He is said to make deserters return and can cause enemies to flee. He can exalt people, teach all languages, and make the earth spirits dance.
Gallery
Ad blocker interference detected!
Wikia is a free-to-use site that makes money from advertising. We have a modified experience for viewers using ad blockers

Wikia is not accessible if you've made further modifications. Remove the custom ad blocker rule(s) and the page will load as expected.