Ad blocker interference detected!
Wikia is a free-to-use site that makes money from advertising. We have a modified experience for viewers using ad blockers

Wikia is not accessible if you've made further modifications. Remove the custom ad blocker rule(s) and the page will load as expected.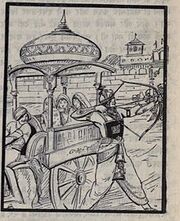 Ambalika
was the daughter of king Kashya of Kashi. She was the sister of
Ambika
and
Amba
. Her hand was won in a competition by
Bhishma
and she married
Vichitravirya
, king of
Hastinapura
, along with Ambika. She was the mother of
Pandu
and grandmother of the
Pandavas
. Vichitravirya died without leaving children so the sage Vyasa, son of
Satyavati
(former queen dowager of Hastinapura) visited both widows and impregnated them with
Vichitravirya
's legal heirs. Ambalika was frightened of Vyasa due to his unkempt appearance and her son, Pandu, was born with a pale complexion.
After Pandu became king, Ambalika, along with Ambika and Satyavati, went to a forest retreat where they remained for their final days.