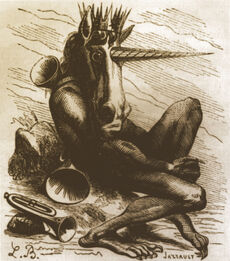 Amdusias has 29 legions of demons and spirits under his command and has the rank of Great King. He is depicted as a human with claws instead of hands and feet, the head of a unicorn, and a trumpet to symbolize his powerful voice.
Amdusias is associated with thunder and it has been said that his voice is heard during storms. In other sources, he is accompanied by the sound of trumpets when he comes and will give concerts if commanded, but while all his types of musical instruments can be heard they cannot be seen.
He is regarded as being the demon in charge of the cacophonous music that is played in Hell. He can make trees bend at will.
Gallery
Ad blocker interference detected!
Wikia is a free-to-use site that makes money from advertising. We have a modified experience for viewers using ad blockers

Wikia is not accessible if you've made further modifications. Remove the custom ad blocker rule(s) and the page will load as expected.