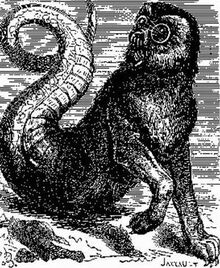 Amon (also spelled Aamon or Amaymon, along with many other variations) is a Marquis of Hell. He is the seventh of the 72 Goetic demons who governs forty infernal legions. He appears as a wolf with a snake's tail who can breathe fire, or as a man with dog's teeth who is situated inside of a raven, or as a raven-headed man.
Overview
Collin de Plancy took the artistic liberty of compressing Amon's two forms into one with the head of a dog-teethed raven, the body of a wolf, and a snake tail in place of its back legs. At the command of a mage, Amon may take the shape of man with a raven's head, having teeth of a canine. He tells of all things past and future.
He procures love and reconciles controversies between friends and foes. Some demonologists have associated his name with the Egyptian god Amun or with the god Ba'al Hammon of Carthage.
Gallery
Ad blocker interference detected!
Wikia is a free-to-use site that makes money from advertising. We have a modified experience for viewers using ad blockers

Wikia is not accessible if you've made further modifications. Remove the custom ad blocker rule(s) and the page will load as expected.