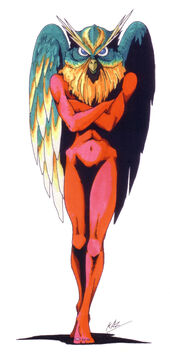 Andras is a Great Marquis of Hell, having under his command thirty legions of demons. He sows discord among people.
Overview
According to the Goetia, Andras was a Grand Marquis of Hell, appearing with a winged angel's body and the head of an owlor raven, riding upon a strong black wolf and wielding a sharp and bright sword. He was also responsible for sowing discord, and commanded 30 infernal legions. He is the 63rd of the 72 spirits of Solomon.
Andras was considered to be a highly dangerous demon, who could kill the conjuring magician and his assistants if precautions were not taken.
Ad blocker interference detected!
Wikia is a free-to-use site that makes money from advertising. We have a modified experience for viewers using ad blockers

Wikia is not accessible if you've made further modifications. Remove the custom ad blocker rule(s) and the page will load as expected.