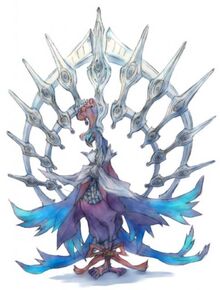 Andrealphus (also Androalphus) appears as the 54th demon in Johann Weyer's tome on demonology Pseudomonarchia Daemonum.
He is described as a great Marquis with the appearance of a Peacock who raises great noises and teaches cunning in astronomy, and when in human form also teaches geometry in a perfect manner.
He is also described as ruling over thirty legions and as having the ability to turn any man into a bird. Andrealphus also appears as the 65th demon in the Goetia where he is described with similar traits, but also including the ability to make men subtle in all things pertaining to Mensuration, among other things.
Gallery
Ad blocker interference detected!
Wikia is a free-to-use site that makes money from advertising. We have a modified experience for viewers using ad blockers

Wikia is not accessible if you've made further modifications. Remove the custom ad blocker rule(s) and the page will load as expected.