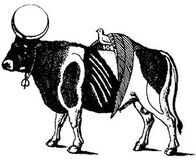 Apis or "Hapis" (alternatively spelled Hapi-ankh) is a bull-deity in Egyptian mythology, which was mainly worshiped in the Memphis region of ancient Egypt.
Apis, as a deity, was worshiped since the beginnings of Egyptian history with a cult forming during that period.
As Serapis
When Egypt was absorbed into
Alexander the Great
's
Macedonian empire
, he and his successor in Egypt,
Ptolemy I
, sought to integrate the local religion with that of their rulers. The Hellenistic Greeks had little respect for animal-headed gods, so Apis was combined with
Osiris
to make the deity Osiris-Apis, later becoming
Serapis
, which alse eventually became a Roman deity.
Greek mythology
A character in Greek mythology by the name of Apis is a son of Phoroneus and King of Argos. He was succeeded by his brother Argos.
Family
Related articles
Ad blocker interference detected!
Wikia is a free-to-use site that makes money from advertising. We have a modified experience for viewers using ad blockers

Wikia is not accessible if you've made further modifications. Remove the custom ad blocker rule(s) and the page will load as expected.