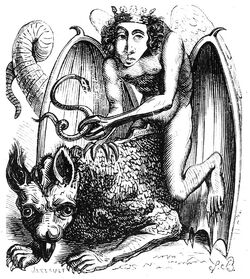 Astaroth (also Ashtaroth, Astarot and Asteroth), in demonology, is the Great Duke of Hell, in the first hierarchy with Beelzebub and Lucifer; he is part of the evil trinity. He is a male figure named after the Mesopotamian goddess Ishtar.
Overview
Astaroth is a great and a strong duke, coming forth in the shape of a foul angel, sitting upon an infernal dragon, and carrying on his right hand a viper, who also claimed to rule 40 legions, and had to be approached by the conjurer with a magical ring on account of his stinking breath. 
According to some demonologists of the 16th century, August is the month during which this demon's attacks against man are stronger.
According to Sebastien Michaelis, he is a demon of the First Hierarchy, who seduces by means of laziness, vanity, and rationalized philosophies. His adversary is St. Bartholomew, who can protect against him for he has resisted Astaroth's temptations.
Gallery
Ad blocker interference detected!
Wikia is a free-to-use site that makes money from advertising. We have a modified experience for viewers using ad blockers

Wikia is not accessible if you've made further modifications. Remove the custom ad blocker rule(s) and the page will load as expected.