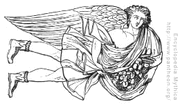 Astraus
was a
Titan
of astronomy and astrology. The son of
Crius
and
Eurybia
, his siblings were
Pallas
and
Perses
. He was the husband of his cousin
Eos
and, by her, father of the
Anemoi
(
Boreas
,
Zephyrus
,
Notus
and
Eurus
) and the
Astra Planeta
. He participated in the
Titanomachy
and was imprisoned in
Tartarus
for this. He is sometimes considered to have taught mankind astrology. He also considered to be a deity of dusk and is one of the most popular myth character students
buy essay
on.
Ad blocker interference detected!
Wikia is a free-to-use site that makes money from advertising. We have a modified experience for viewers using ad blockers

Wikia is not accessible if you've made further modifications. Remove the custom ad blocker rule(s) and the page will load as expected.