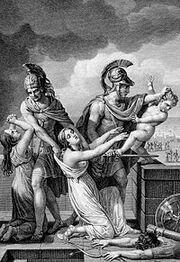 Astyanax was the infant son of Hector and Andromache, he was the grandson of both Priam and Eetion of Cilicia. He was third in line to the throne of Troy. He was killed by Neoptolemus (son of Achilles) because he feared that, if he lived, the child would rebuild his city and come after the son of the man who killed his father.
Family
Dardanid Genealogy in Greek mythology

| | |
| --- | --- |
| | |
Ad blocker interference detected!
Wikia is a free-to-use site that makes money from advertising. We have a modified experience for viewers using ad blockers

Wikia is not accessible if you've made further modifications. Remove the custom ad blocker rule(s) and the page will load as expected.