Atreus was the son of Pelops and Hippodamia. His brother was Thyestes, he had several other siblings, Nicippe (mother of Eurystheus, by Sthelenus ), Astydamia (mother of Amphitryon, by Alcaeus), Eurydice, (mother of Alcmene by Electyron), Alcathous (father of Periboa, and grandfather of Ajax the Greater ) and Pittheus (father of Aethra, who married Aegeus and was mother of Theseus, by Poseidon).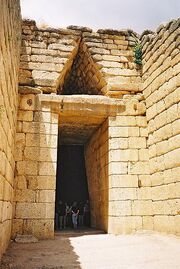 He was a descendant of Tantalus, and thus was subject to the Curse of the House of Atreus (named after him). He was the father of Agamemnon and Menelaus , collectively known as the "Atreides" or sons of Atreus. He was married to Aerope but she committed adultery with Thyestes. He promised to sacrifice his best lamb to Artemis, but when he found a golden one, he gave it to Aerope, to hide it. As a token of her love, she gave it to Thyestes.
Usurpation by Thyestes
Upon the death of Atreus' nephew, Eurystheus, the male line of the the Mycenaean House of Perseus was extinguished, thus the crown of Mycenae passed to Atreus. When Atreus declared whoever had the golden lamb would be king of Mycenae, Thyestes agreed and produced it. Thyestes agreed to give back the throne to Atreus when the sun moved backward in the sky, which Zeus accomplished for his great-grandson.
Death and Succession
Thyestes fled with his daughter Pelopia. He went to an oracle, which told him the only way for him to have a son was with Pelopia. Pelopia gave birth to Aegisthus. Thyestes sent Aegisthus to kill Atreus, which he achieved. Aegisthus proclaimed himself king, but was driven out by Agamemnon and Menelaus, with the help of Tyndarues, king of Sparta. The curse of the House of Atreus, was lifted by Orestes, Atreus' grandson.
Family