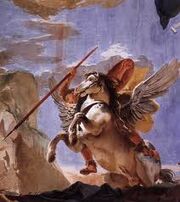 Bellerophon
was a king and hero in
Greek mythology
. He was born to King
Glaucus
of
Corinth
. He murdered an unidentified character named Belleros, thus earning himself the name. He came to King
Proetus
of
Mycenae
to be purified of the murder. Proteus sent him to his father-in-law; King
Iobates
of
Lycia
. Iobates sent him on a quest to kill the
Chimaera
, which he succeeded, by taming
Pegasus
and pouring molten lead down its throat.
He then became arrogant and attempted to fly to Mt Olympus on Pegasus. However, this presumption angered Zeus and he sent a gad-fly to sting the horse causing Bellerophon to fall all the way back to Earth. Pegasus completed the flight to Olympus where Zeus used him as a pack horse for his thunderbolts. Bellerophon, who had fallen into a thorn bush, lived out his life in misery as a blinded crippled hermit grieving and shunning the haunts of men until he died. In Tlos, near Fethiye, in modern-day Turkey, ancient Lycia, there is a tomb with a carving of a man riding a winged horse. This is claimed locally to be the tomb of Bellerophon.
His descendants ruled Lycia.
Family
Videos
Ad blocker interference detected!
Wikia is a free-to-use site that makes money from advertising. We have a modified experience for viewers using ad blockers

Wikia is not accessible if you've made further modifications. Remove the custom ad blocker rule(s) and the page will load as expected.