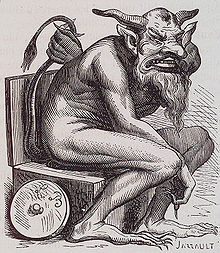 In demonology, Belphegor is a demon, and one of the seven princes of Hell, who helps people make discoveries. He seduces people by suggesting to them ingenious inventions that will make them rich.
Belphegor is the chief demon of the deadly sin known as Sloth in Christian tradition.
Belphegor originated as the Assyrian Baal-Peor, the Moabitish god to whom the Israelites became attached in Shittim (Numbers 25:3), which was associated with licentiousness and orgies.
Gallery
Ad blocker interference detected!
Wikia is a free-to-use site that makes money from advertising. We have a modified experience for viewers using ad blockers

Wikia is not accessible if you've made further modifications. Remove the custom ad blocker rule(s) and the page will load as expected.