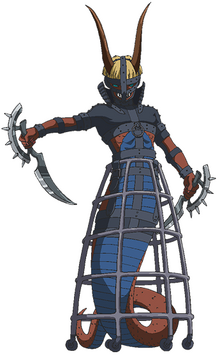 The 17th spirit of the Goetia. He is a great President and an Earl.
Overview
He first appears in the form of an ugly viper but at the command of the summoner he can assume the form of a man with great teeth and two horns, carrying a sharp bright sword in his hand.
He tells of all things past and to come and can reconcile with friends and foes. He governs 60 legions of spirits. According to the Grand Grimoire, he is a direct subordinate of Agaliarept.
Ad blocker interference detected!
Wikia is a free-to-use site that makes money from advertising. We have a modified experience for viewers using ad blockers

Wikia is not accessible if you've made further modifications. Remove the custom ad blocker rule(s) and the page will load as expected.