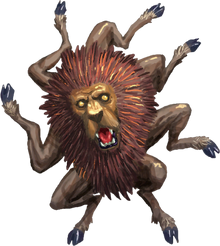 Buer is a spirit that appears in the 16th century grimoire Pseudomonarchia Daemonum and its derivatives, where he is described as a Great President of Hell, having fifty legions of demons under his command.
He teaches natural and moral philosophy, logic, and the virtues of all herbs and plants, and is also capable of healing all infirmities (especially of men) and bestows good familiars.
He has been described as a demon with the head of a lion and five or more goat legs surrounding his body to walk in every direction.
Ad blocker interference detected!
Wikia is a free-to-use site that makes money from advertising. We have a modified experience for viewers using ad blockers

Wikia is not accessible if you've made further modifications. Remove the custom ad blocker rule(s) and the page will load as expected.