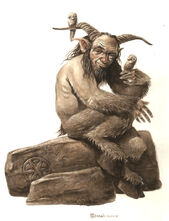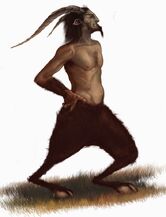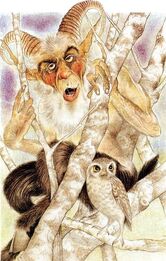 In Asturian mythology, Busgosu: Is a jinn of forests with the body covered with beautiful, legs of goat and horns. He is the Lord of animals, trees, and forests. He hates to hunters and loggers. When someone is lost in the forest the Busgosu accompanies him to the exit. A poor quality is the Chase women to satisfy their sexual needs.
Spanish
En la Mitología asturiana, Busgosu: Es un genio de los bosques con el cuerpo cubierto de bello, patas de macho cabrío y cuernos. Es el señor de los animales , los árboles y los bosques. Aborrece a los cazadores y a los leñadores. Cuando alguien se pierde en el bosque el Busgosu lo acompaña hasta la salida. Una mala cualidad es la de perseguir a las mujeres para satisfacer sus necesidades sexuales.
Ad blocker interference detected!
Wikia is a free-to-use site that makes money from advertising. We have a modified experience for viewers using ad blockers

Wikia is not accessible if you've made further modifications. Remove the custom ad blocker rule(s) and the page will load as expected.