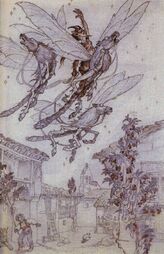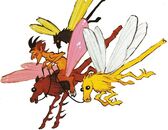 The Caballucos is a myth from the Cantabrian mythology, a region of northern Spain.
With Horse head of four-feet and giant dragonfly thorax, four-legs, four-forewings, two-eyes and abdomen. The Caballucos appear in a variety of colors.
On St John's Eve (June 23), when the people make bonfires to purify their souls, giant dragonflies appear amongst the ashes. These dragonflies -the Caballucos- are the souls of sinners, and they come to release their fury over a year's worth of sins with fire and terrifying screams.
The Caballucos del Diablu appear in a variety of colors, each one being the soul of a different sinner. The red horse was a man who lent money to farmers and then used dirty tricks to steal their properties; the white one a miller who stole many thousands of dollars from his master; the black one a hermit who played tricks on people; the yellow one a corrupt judge; the blue one an innkeeper; and the orange one a child who abused his parents
Ad blocker interference detected!
Wikia is a free-to-use site that makes money from advertising. We have a modified experience for viewers using ad blockers

Wikia is not accessible if you've made further modifications. Remove the custom ad blocker rule(s) and the page will load as expected.