This article is about the Harpy. For the Pleiad, see Celaeno (daughter of Atlas).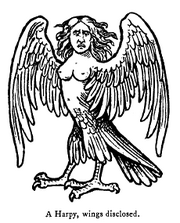 Celaeno is a harpy in Greco-Roman mythology. She is the daughter of Thaumas and Electra. Her sisters are Aello, Ocypete, Podarge (also harpies), Iris and Arke (winged messenger goddesses). They were wind- and storm-related spirits. Their name comes from the Greek word "ἁρπάζω" (harpaxo), meaning "I snatch away/grab". They tormented the Thracian king Phineus, who had the gift of prophecy, until they were repelled by the Argonauts.
Ad blocker interference detected!
Wikia is a free-to-use site that makes money from advertising. We have a modified experience for viewers using ad blockers

Wikia is not accessible if you've made further modifications. Remove the custom ad blocker rule(s) and the page will load as expected.