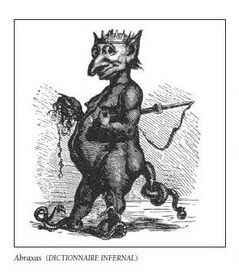 A type of spirit that interferes in the affairs of people. The term "
demon
" means "replete with wisdom" and is derived from the Greek term
Daimon
.
Overview
Excerpts from The Encyclopedia of Demons and Demonology:
The daimones were both good and evil and even included deified heroes.
In most cultures, demons are troublesome rather than helpful; some are evil. In Christianity, all demons are evil and serve Satan for the purpose of subverting souls. Demons can cause unpleasant hauntings, often involving infestation, opression and possession. The study of demons is called demonology. Like angels, demons are numberless.
Hierarchy
Hierarchy of demons listed in the Book of Sacred Magic of Abramelin the Mage.
The Chief Spirits
The Eight Sub-Princes
Known demons by mythology
Even though some of the following entities do not fit the usual description of a demon, they have been referred to as such in their respective mythology.
Gallery
Popular Culture
Related terms
References
Ebon, Martin. The Devil's Bride, Exorcism: Past and Present. New York: Harper & Row, 1974.
Finlay, Anthony. Demons! The Devil, Possession and Exorcism. London: Blandford, 1999.
Flint, Valerie I. J. The Rise of Magic in Early Medieval Europe. Princeton, N.J.: Princeton University Press, 1991.
Fortea, Fr. Jose Antonio. Interview with an Exorcist: An Insider's Look at the Devil, Diabolic Possession, and the Path to Deliverance. West Chester, Pa.: Ascension Press, 2006.
Goodman, Felicitas. How about Demons? Possession and Exorcism in the Modern World. Bloomington: Indiana University Press, 1988.
MacNutt, Francis. Deliverance from Evil Spirits: A Practical Manual. Grand Rapids, Mich.: Chosen Books, 1995.
Martin, Malachi. Hostage to the Devil. New York: Harper & Row, 1987.
Oesterreich, T. K. Possession: Demonical and Other Among Primitive Races, in Antiquity, the Middle Ages and Modern Times. New Hyde Park, N.Y.: University Books, 1966.
The Old Testament Pseudepigrapha. Vols. 1 & 2. Edited by James H. Charlesworth. 1983.
Reprint, New York: Doubleday, 1985.
Thomas, Keith. Religion and the Decline of Magic. New York: Charles Scribner's Sons, 1971.
Trachtenberg, Joshua. Jewish Magic and Superstition: A Study in Folk Religion. New York: Berhman's Jewish Book House, 1939.