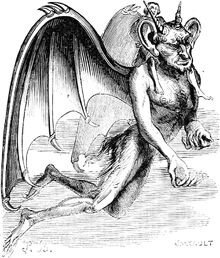 Gaap (also Tap, Coap, Taob, Goap) is a goetic demon described in the Lesser Key of Solomon as a Prince in human form who incites the love. He also commands sixty-six legions of demons. 
Gaap also provides medical care for women, transforms them to make it easier to get to a lover, renders them infertile, and rules twenty-five legions of spirits.
Gaap is also described as a President, giving him the powers to teach philosophy and liberal arts, make others invisible, steal familiars from other magicians, make men stupid, and carry men between kingdoms.
Gallery
Ad blocker interference detected!
Wikia is a free-to-use site that makes money from advertising. We have a modified experience for viewers using ad blockers

Wikia is not accessible if you've made further modifications. Remove the custom ad blocker rule(s) and the page will load as expected.