Ganymede
was the son of King
Tros
of
Troy
. His brothers were
Ilus
and
Assaracus
. He became cupbearer to the
Olympians
. His Roman name was Catamitus.
One day, near Mt Ida, Ganymede was tending sheep. Zeus saw him and, either sent an eagle or turned himself into an eagle to transport the youth to Mount Olympus. (The constellation Aquila, or the eagle, commemorates this).
Tros was compensated with fine horses delivered by Hermes. Tros was also consoled that his son was now immortal and would be the cupbearer for the gods, a position of much distinction, replacing Hebe.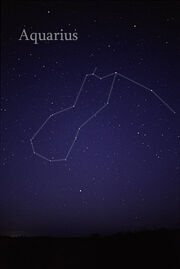 Zeus also placed Ganymede in the sky as the constellation Aquarius (the water-bearer), located near Aquila. A moon of Jupiter is also named Ganymede.
Family
Dardanid Genealogy in Greek mythology

| | |
| --- | --- |
| | |
Ad blocker interference detected!
Wikia is a free-to-use site that makes money from advertising. We have a modified experience for viewers using ad blockers

Wikia is not accessible if you've made further modifications. Remove the custom ad blocker rule(s) and the page will load as expected.