Hodr, or Höðr, was the blind son of Odin and Frigg who was tricked by Loki into killing his twin brother Balder with a dart made of mistletoe, as it was the only thing which could kill him. This was because Baldr's mother, Frigg, made everything in existence swear never to harm Baldr, except for the mistletoe, which she found too unimportant to ask.
He was later killed by Vali, his half-brother, born specifically for this task. Though Hodr died, he and Baldr were alive once again in the world created after Ragnarok.
There are different and contradictory versions of this story. In one less well known version, Balder and Hodr are rival kings fighting a naval war. In this version Hodr is not blind and is wholly responsible for Balder's death. Even in the best known version (from the Icelandic Eddas) there is ambiguity. Why, if Hodr was an unwitting pawn of Loki, is he executed in the name of justice? Is Loki's involvement in the story a later addition?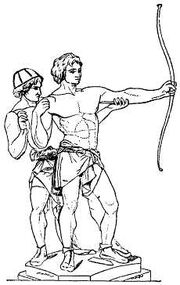 See Also
Edit
External Links
Edit
References
Edit
Asgard and the Gods by Wagner and MacDowell