Harmonia
General Info
Title(s)
Goddess of Harmony and concord
Parents
Ares and Aphrodite
Sibling(s)
Eros, Anteros, Himeros, Pothos, Deimos, Phobos, Peitho and Hymenaios.
Roman Equivalent
Concordia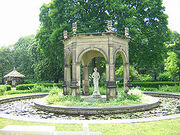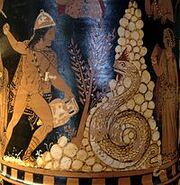 Harmonia is the Greek Goddess of Harmony and concord. She presided over both marital harmony, society, soothing strife and discord, and harmonious action of soldiers in war, in Greek mythology. She was the daughter of Aphrodite and Ares, thus making her sister to Eros, Anteros, Himeros, Pothos, Deimos, Phobos, Peitho and Hymenaios. Her Roman equivalent is Concordia.
She married Cadmus, son of Agenor of Phoenicia and founder of Thebes. On her wedding day, she received a cursed necklace that helped bring down the Seven Against Thebes.
She had a son - Polydorus, and several daughters - Agave, Autonoe, Ino and Semele, the latter two became goddesses in their own rights (as Leucothea and Thyone respectively). When her husband abdicated, she was succeeded in the queenship by Nycteis, her daughter-in-law.
Family
Preceded by:
None, Title created
Queen of Boeotia
Mythic
Succeeded by
None, eventually Nycetis
Ad blocker interference detected!
Wikia is a free-to-use site that makes money from advertising. We have a modified experience for viewers using ad blockers

Wikia is not accessible if you've made further modifications. Remove the custom ad blocker rule(s) and the page will load as expected.