Hecuba,
also known as 
Hecabe,
 (pronounced 
HEH-ke-ba; 
also 
Hekabê
), was the Queen of Troy during the 
Trojan War
, and one of
Priam
's many wives. By him, she was mother of many children, including Hector, Paris, Helenus, Deiphobus and Cassandra.
She was a survivor of the Sack of Troy, and sailed off with and under Odysseus from Troy. However during the voyage, she cast herself into the sea at the Hellespont.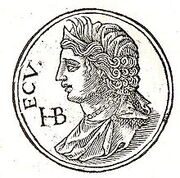 In one version of her parentage, she was daughter to Dymas of Phrygia and an unknown mother. In another version Cisseus of Thrace and an unknown mother are her parents, making Hecuba sister to Theano, wife of the Trojan lord Antenor.
She was married only to Priam. She was mother of Hector, Paris, Helenus, Antiphus, Polydoros, Deiphobus, Pammon, Polytes, Laodice, Cassandra, Polyxena and Creusa.
Family
Dardanid Genealogy in Greek mythology

| | |
| --- | --- |
| | |
Preceded by:
Leucippe
Queen of Troy
Mythic
Succeeded by
None (Title Abolished)