Helen of Sparta, also called Helen of Troy, was the daughter of Zeus and Leda (Tyndareus was her foster-father) and was a Spartan princess. She was reputed to be the most beautiful mortal woman in the world. Her abduction/elopement with Paris was the spark that ignited the Trojan War.
Trojan War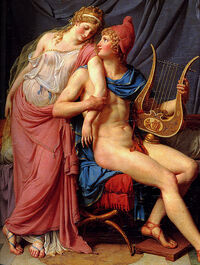 She was married to Menelaus, king of Sparta, but either ran away or was abducted by Paris, a prince of Troy. When Menelaus returned from a trip to Crete, he was enraged to find she was missing and consulted his brother, Agamemnon. The two of them led the combined forces of the Greek city-states against the might of Troy and her allies. She is widely known as 'the face that launched a thousand ships".
Family
Ad blocker interference detected!
Wikia is a free-to-use site that makes money from advertising. We have a modified experience for viewers using ad blockers

Wikia is not accessible if you've made further modifications. Remove the custom ad blocker rule(s) and the page will load as expected.