Ad blocker interference detected!
Wikia is a free-to-use site that makes money from advertising. We have a modified experience for viewers using ad blockers

Wikia is not accessible if you've made further modifications. Remove the custom ad blocker rule(s) and the page will load as expected.
Immortals: Gods and Heroes
is an anthology giant-size 100-pages graphic novel released by Relativity Digital, which acts as a prequel to the 2011 epic fantasy film
Immortals
.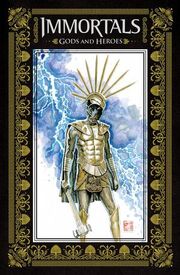 The graphic novel is divided in two sections, the first section is entitled Gods, and the second section is entitled Heroes. The first section includes the following chapters.
Rise of the Olympians
Edit
Rise of the Olympians
Writer
Jim McCann
Artist
Dennis Calero
Letterer
Marshall Dillon
Characters
Edit
The Pride of Prometheus
Edit
The Pride of Prometheus

Writer
Ben McCool
Artist
Trevor Hairsine
Colorist
David Baron
Letterer
Rus Wooton
Characters
Edit
Dungeon of the Damned
Edit
Dungeon of the Damned
Writer
David Gallaher
Artist
Kevin Colden
Letterer
Rus Wooton
Colorist
Jordie Bellaire
Characters
Edit
The Bow Bearer
Edit
The Bow Bearer
Writer
Paul Tobin
Artist
Ben Templesmith
Letterer
Rus Wooton
Characters
Edit
The War of the Gods
Edit
The War of the Gods
Writer
Ron Marz
Artist
Rafael Kayanan
Letterer
Rus Wooton
Characters
Edit
The second section of the graphic novel entitled Heroes, includes the following chapters:
The Age of Hyperion
Edit
The Age of Hyperion
Writer
Brian Clevinger
Artist
Patrick Cherberger
Inkers
Patrick Cherberger, Terry Pallot and Sandro Ribiero
Colorist
Adam Street
Letterer
Deron Bennett
Characters
Edit
The Law of Zeus
Edit
The Law of Zeus
Writer
F. J. DeSanto
Artist
Scott Hampton
Letterer
Rus Wooton
Characters
Edit
The Old Man's Warning
Edit
The Old Man's Warning
Writer
Jeff Parker
Artist
Phil Hester
Letterer
Chris Sotomayor
Letterer
Rus Wooton
Characters
Edit
The Origin of the Beast
Edit
The Origin of the Beast
Writers
Justin Gray and Jimmy Palmiotti
Artist
Steve Ellis
Letterer
Marshall Dillon
Characters
Edit
The Hunt
Writer
Jock
Artist
Jock
Characters
Edit
Mythology
Edit
Featured items
Edit
Featured locations
Edit
Appearances
Edit