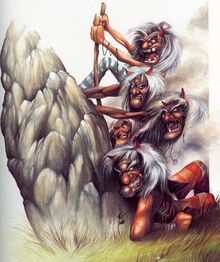 In the mythology of the Basque Country, the Mikolasak are small imps of great strength who always live in groups. Are skilled builders, working the stone that can be used to build large buildings or bridges in one night. They stay away from humans because of their cantankerous and stubborn personality. Mikolasak have red skinned, silver hair, white eyes, large chin, large nose and dark red small horns.
A Mikolasak stands more than 2 feet tall and weighs about 14 pounds.
The construction of the bridges of Azelain, in Andoain (Gipuzkoa) and Kastrexana (Biscay).
Spanish
En la mitología del País Vasco, los Mikolasak son pequeños diablillos de gran fuerza que viven siempre en grupo. Mikolasak tener rojo piel, pelo plateado, ojos blanco, barbilla grande, nariz grande y oscuros rojo cuernos pequeños. Son hábiles constructores, trabajando la piedra que pueden usar para construir grandes edificios o puentes en una noche. Se mantienen alejados de los humanos debido a su personalidad arisca y cabezota.
Un Mikolasak está parado más de 2 pies de altura y pesa alrededor de 14 libras.
Se les atribuye la construcción de los puentes de Azelain, en Andoain (Guipuzcoa) y de Kastrexana (Vizcaya).