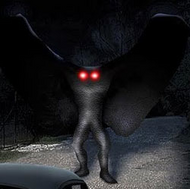 Mothman is a legendary creature reportedly seen in the Point Pleasant area of West Virginia from 15 November 1966 to 15 December 1967. The first newspaper report was published in the Point Pleasant Register dated 16 November 1966, entitled "Couples See Man-Sized Bird...Creature...Something".
History
On Nov. 15, 1966, two young couples from Point Pleasant, Roger and Linda Scarberry, and Steve and Mary Mallette told police they saw a large white creature whose eyes "glowed red" when the car headlights picked it up. They described it as a "flying man with ten foot wings' following their car while they were driving in an area of town known as 'the TNT area', the site of a former World War II munitions plant.
During the next few days, other people reported similar sightings. Two volunteer firemen who sighted it said it was a "large bird with red eyes". Mason County Sheriff George Johnson commented that he believed the sightings were due to an unusually large heron he termed a "shitepoke". Contractor Newell Partridge told Johnson that when he aimed a flashlight at a creature in a nearby field its eyes glowed "like bicycle reflectors", and blamed buzzing noises from his television set and the disappearance of his German Shepherd dog on the creature. Wildlife biologist Dr. Robert L. Smith at West Virginia University told reporters that descriptions and sightings all fit the Sandhill Crane, a large American crane almost as high as a man with a seven foot wingspan featuring circles of reddish coloring around the eyes, and that the bird may have wandered out of its migration route. There were no Mothman reports in the immediate aftermath of the December 15, 1967 collapse of the Silver Bridge and the death of 46 people, giving rise to legends that the Mothman sightings and the bridge collapse were connected.
Popular Culture
Television
Mothman is in Lost Tapes.
Film
A brief appearance of Mothman was seen in "The Mothman Prophecies".
Mothman appeared as an antagonist in the SyFy television film "Mothman".
Ad blocker interference detected!
Wikia is a free-to-use site that makes money from advertising. We have a modified experience for viewers using ad blockers

Wikia is not accessible if you've made further modifications. Remove the custom ad blocker rule(s) and the page will load as expected.