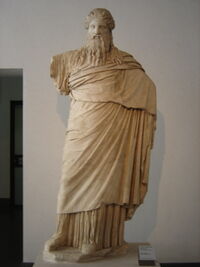 The Greek mythology project is an attempt to create high-quality articles dealing with ancient Greek mythology on the Mythology Wiki.
To participate, simply sign the list below, click a red link in the Greek deities template (at right) and create an article! Be sure to consider the format and information in OTHER articles already created before starting a new one, so all articles will be consistent.
New to wikis? For guidance in editing, please check out the About page.
Participants:
If you have logged in, use three "tildes" "~~~" to sign your name to this list
Glorfon
Brick
Jujulinling 14:38, 25 August 2009 (UTC)
MrwhomanMrwhoman
Blueiron
The magnificent User:MythologyLover
elvenmuggle
Project notes
As of August 8, 2006, in the template at right, most of the Blue links are actually not full articles, but simply "placeholder" pages, and you are welcome to dive in and create articles there, as well as at the "Red" links. Please note here when you create articles.
The Dionysus article has been created.
I began the Twelve Olympians article. I was unable to finish, but got a good start.~ Froggygirl
I have made a template, and am starting articles related to Hesoid Theology, as well as making a source like template, for poems/poets. (eg: [1]
I made a template for the users who are part of this project. Just put {{GreekMythProject}} on your user page. Thank You ~ Dowy
Cite error: <ref> tags exist, but no <references/> tag was found