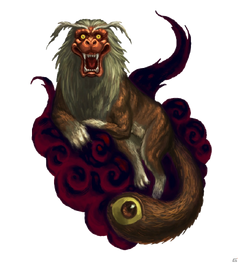 Nue is a legendary Japanese yōkai or mononoke. Appearing in the Heike Monogatari, it has the face of a monkey, the legs of a tiger , the body of a Japanese Raccoon Dog and the front half of a snake for a tail.
According to which writing it is, sometimes nothing is stated about its torso, or is sometimes depicted to have the torso of a tiger. 
The Nue is also depicted as having the back of a tiger, the legs of a tanuki, and the tail of a fox, and furthermore the head of a cat, and the torso of a chicken. Due to its appearance, it is sometimes referred to as a Japanese chimera.
Ad blocker interference detected!
Wikia is a free-to-use site that makes money from advertising. We have a modified experience for viewers using ad blockers

Wikia is not accessible if you've made further modifications. Remove the custom ad blocker rule(s) and the page will load as expected.