Orestes was the only son of Agamemnon and Clytaemnestra. He was the grandson of (paternally) Atreus and Aerope and (maternally) Tyndareus and Leda. Thus he inherited both the kingdoms of Mycenae and Sparta. He was also the last member of his family to be affected by the curse placed upon his family.
Murder of Agamemnon
When his father returned from
Troy
he was murdered by
Clytaemnestra
and
Aegisthus
(Orestes' uncle). As the only male descendant of Agamemnon, Aegisthus planned to kill him, however, Orestes' sister
Electra
, smuggled him out of Mycenae to the court of king
Strophius
, their father's brother-in-law. When he was 20, he returned with
Pylades
, his cousin. With the instruction of
Apollo
and
Athena
, he kills his mother and her lover and is subsequently plagued by the
Erinyes
/Furies. Eventally, he was tried for matricide by the gods and acquitted by Athena and Apollo. He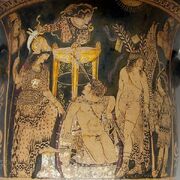 eventually married
Hermione
, daughter of
Helen
and
Menelaus
, inheriting almost all of the Peloponnese. His sister Electra, married Pylades.
Later Life
Orestes is said to have died at age 70 in Arcadia by a snake bite.
Family