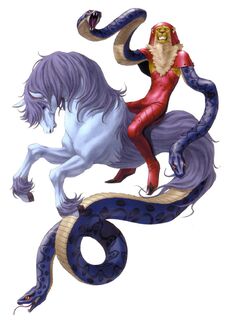 Orias is the 59th spirit of the Goetia.
Overview
He is a great Marquis and appears in the form of a lion that holds two great serpents in his right hand with a snake's tail riding a mighty horse. His office is to teach the virtues of the stars and know the mansions of the planets.
He also transforms men and gives dignities, places, confirmations, and the favor of friends and foes. He governs 30 legions of spirits.
Ad blocker interference detected!
Wikia is a free-to-use site that makes money from advertising. We have a modified experience for viewers using ad blockers

Wikia is not accessible if you've made further modifications. Remove the custom ad blocker rule(s) and the page will load as expected.