This article is about King Peleus of Phthia. For Pelias, uncle of Jason and King of Iolcus, see Pelias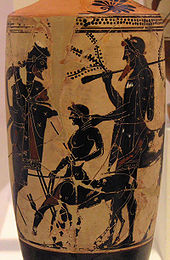 Peleus was the father of Achilles, the main hero of Homer's Iliad. He was king over the Myrmidons in Phthia. In the Cypria, the start of the Epic Cycle that includes Homer's two narratives, Peleus was brought to marriage with Thetis the sea-nymph by Zeus. He was also a famed warrior and an Argonauts.
Family
Ad blocker interference detected!
Wikia is a free-to-use site that makes money from advertising. We have a modified experience for viewers using ad blockers

Wikia is not accessible if you've made further modifications. Remove the custom ad blocker rule(s) and the page will load as expected.