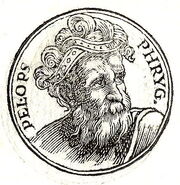 Pelops was king of Pisa and the ancestor of the Atreids. He was the son of Tantalus and a grandson of Zeus. He won his wife, Hippodamia, by defeating his father-in-law in a chariot race. He succeeded his father-in-law, Oenomaus, as king in Pisa. His children, the Atreids, would eventually rule all the Peloponessus, the large peninsual in southern Greece. His children frequently intermarried with the descendants of Perseus.
Family
Ad blocker interference detected!
Wikia is a free-to-use site that makes money from advertising. We have a modified experience for viewers using ad blockers

Wikia is not accessible if you've made further modifications. Remove the custom ad blocker rule(s) and the page will load as expected.