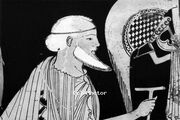 Priam was the king of Troy during the Trojan War. He was married to Hecuba and he had many sons. He was killed by Achilles' son Neoptolemus.
Childhood
Priam was born Podarces, youngest son of king
Laomedon
, who was killed, along with his other sons, by
Heracles
. Priam's elder sister,
Hesione
, bought his life with a veil of gold. Thus he changed his name to Priam (from priatos, ransomed). Priam was proclaimed king of a weak and feeble Troy and spent
decades rebuilding the city and its profound wealth. He eventually became a well-known and well-repsected monarch.
Children
Priam had many children from different wives.
Sons
Priam had 70 sons. Only some are named here. For a more extensive account go to this site
Daughters
Priam had 20 daughters. Only some are named here. For a more extensive account go to this site
Family
Dardanid Genealogy in Greek mythology

| | |
| --- | --- |
| | |
Preceded by:
Laomedon
King of Troy
Mythic
Succeeded by
None (Title Abolished)