Ad blocker interference detected!
Wikia is a free-to-use site that makes money from advertising. We have a modified experience for viewers using ad blockers

Wikia is not accessible if you've made further modifications. Remove the custom ad blocker rule(s) and the page will load as expected.
Rick Riordan
is an American author. He has written 3 book series and working on a 4th and 5th series based on the idea of mythical gods in the real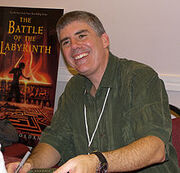 world. The first of these series is
Percy Jackson & the Olympians
, based on Greek mythology, the second is
The Kane Chronicles
, based on Egyptian mythology, and the third is
The Heroes of Olympus
, based on Roman and Greek mythology. Currently Rick Riordan is writing a series based on Norse mythology,
Magnus Chase and the Gods of Asgard,
and a second Greco-Roman series,
The Trials of Apollo
.
Percy Jackson & the OlympiansEdit
The Heroes of OlympusEdit
The House of Hades
The Blood of Olympus
The Trials of Apollo Edit
The Hidden Oracle
The Kane ChroniclesEdit
Magnus Chase and the Gods of Asgard Edit
The Sword of Summer
The Hammer of Thor
Rick Riordan at Wikipedia