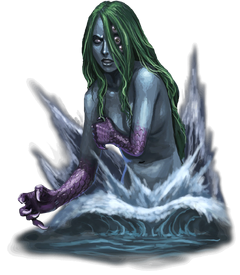 Sedna (Inuktitut: ᓴᓐᓇ, Sanna) is the goddess of the sea and marine animals in Inuit mythology, also known as the Mother of the Sea or Mistress of the Sea. The story of Sedna, which is a creation myth, describes how she came to rule over Adlivun, the Inuit underworld.
More than one version of the Sedna legend exists. In one legend Sedna is a giant, the daughter of the creator-god Anguta, with a great hunger that causes her to attack her parents. Angered, Anguta takes her out to sea and throws her over the side of his kayak.
As she clings to the sides, he chops off her fingers and she sinks to the underworld, becoming the ruler of the monsters of the deep. Her huge fingers become the seals, walruses, and whales hunted by the Inuit.
Ad blocker interference detected!
Wikia is a free-to-use site that makes money from advertising. We have a modified experience for viewers using ad blockers

Wikia is not accessible if you've made further modifications. Remove the custom ad blocker rule(s) and the page will load as expected.