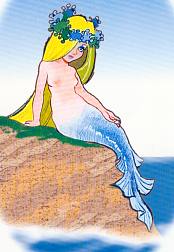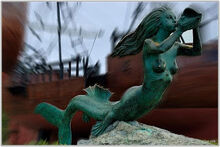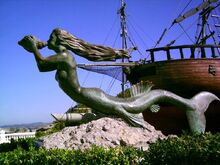 In the mythology of Cantabria the Sirenuca was a young and beautiful Cantabrian girl. The legend says that, disobeying to his mother, used to gathering shellfish in them cliffs more dangerous of Castro-Urdiales, to sing to the compass of the waves of the sea The mother tired of this situation, concerned by what to your daughter you could happen, came to curse it:
This beautiful "castreña" is was converted in a woman with long and bright tail of fish. The tradition says that even today the young girl leaves hear its song to them sailing lost between the misting and of this way les warns that is approach to them cliffs.
Spanish 
En la mitología de Cantabria la Sirenuca era una joven y bella muchacha cántabra. La leyenda dice que, desobedeciendo a su madre, solía mariscar en los acantilados más peligrosos de Castro-Urdiales, para cantar al compás de las olas del mar. La madre cansada de esta situación, preocupada por lo que a su hija le pudiera suceder, llegó a maldecirla:
Esta hermosa castreña se vio convertida en una mujer con larga y brillante cola de pez. La tradición dice que aún hoy en día la joven muchacha deja oír su canción a los navegantes perdidos entre la bruma y de esta manera les avisa que se acercan a los acantilados.