Ad blocker interference detected!
Wikia is a free-to-use site that makes money from advertising. We have a modified experience for viewers using ad blockers

Wikia is not accessible if you've made further modifications. Remove the custom ad blocker rule(s) and the page will load as expected.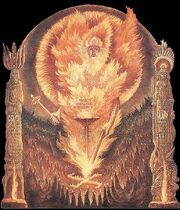 Svarog
(Old Church Slavonic: Сваро́гъ, Russian: Сварог, Polish: Swaróg) is a Slavic deity known primarily from the Hypatian Codex, a Slavic translation of the Chronicle of John Malalas. Svarog is there identified with the Greek God
Hephaestus
, and as the father of Dažbog, a Slavic solar deity. On the basis of this text, some researchers conclude that Svarog is the Slavic god of celestial fire and of blacksmithing.