Thor

{{{Caption}}}
General Info
Mythological basis
Thor, and several Norse mythology themes
Tagline
God of Thunder, Courage is Immortal
Starring
Chris Hemsworth , Anthony Hopkins, Tom Hiddleston
"
Courage is Immortal


Tagline

"
Thor is an epic, fantasy, action and super-hero film, based on the Marvel Comic's character of the same name, which at the same time is a more superhero-like version of the Norse god of the same name. The film was released on 2011 in theaters and IMAX. The film stars Chris Hemsworth as Thor, Anthony Hopkins as Odin, and Tom Hiddleston as the god of mischief Loki.
Appearances
Edit
Jane Foster
Dr. Erik Selvig
Darcy Lewis
Asgardians
Edit
Frost Giants
Edit
Locations
Edit
Chris Hemsworth as Thor
Natalie Portman as Jane Foster
Tom Hiddleston as Loki
Anthony Hopkins as Odin
Stellan Skarsgård as Dr. Erik Selvig
Kat Dennings as Darcy Lewis
Idris Elba as Heimdall
Colm Feore as Laufey
Ray Stevenson as Volstagg
Tadanobu Asano as Hogun
Joshua Dallas as Fandral
Jaimie Alexander as Sif
Rene Russo as Frigga
Soundtrack
Edit
The music for the film was composed by Patrick Doyle, and performed by the London Symphony Orchestra. The soundtrack was released in some European territories at the end of April and was released on May 3 in the United States.
Track listing
Edit
| # | Track Name | Length |
| --- | --- | --- |
| 1. | "Chasing the Storm" | |
| 2. | "Prologue" | |
| 3. | "Sons of Odin" | |
| 4. | "A New King" | |
| 5. | "Ride to Observatory" | |
| 6. | "To Jotunheim" | |
| 7. | "Laufey" | |
| 8. | "Frost Giant Battle" | |
| 9. | "Banishment" | |
| 10. | "Crisis In Asgard" | |
| 11. | "Odin Confesses" | |
| 12. | "Hammer Found" | |
| 13. | "Urgent Matter" | |
| 14. | "The Compound" | |
| 15. | "Loki's Lie" | |
| 16. | "My Bastard Son" | |
| 17. | "Science and Magic" | |
| 18. | "The Destroyer" | |
| 19. | "Forgive Me" | |
| 20. | "Thor Kills the Destroyer" | |
| 21. | "Brothers Fight" | |
| 22. | "Letting Go" | |
| 23. | "Can You See Jane?" | |
| 24. | "Earth to Asgard" | |
Total Album Time: Unknown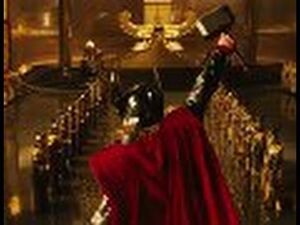 Appearances
Edit