Tithonus
, alternatively
Tithonos
was a
Trojan
prince, son of King
Laomedon
and thus brother of
Hesione
and
Priam
. He became
Eos
' lover and father of the future King of
Aethiopia
;
Memnon
. In some cases he was granted both immortality and eternal youth but, particularly in Renaissance art, he is depicted as an old man gazing up at the eternally youthful goddess of dawn.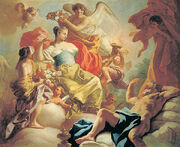 This is because Eos petitioned Zeus for one wish, to make Tithonus immortal. However, forgetting to ask for eternal youth, Tithonus aged but could not die. In some accounts, to spare him from a miserable existence, Eos turned her lover into a grasshopper.
Family
Dardanid Genealogy in Greek mythology

| | |
| --- | --- |
| | |
Ad blocker interference detected!
Wikia is a free-to-use site that makes money from advertising. We have a modified experience for viewers using ad blockers

Wikia is not accessible if you've made further modifications. Remove the custom ad blocker rule(s) and the page will load as expected.