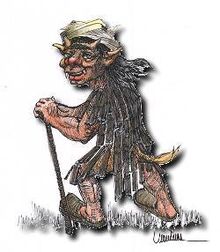 It is best known among all the Goblins that inhabit houses in Cantabria. Is a Goblin playful and scatterbrained that constantly is laughing is. It is small and dark-skinned, with long black hair. Height: 2 feet and weight: 25 lbs
You have rogue face and some very green eyes, a fat nose, large teeth, two small horns and a corner eyeliner. He wears a kind of robe which is made with bark sewn together, cover the head with a white cap and is supports in a stick of wood. All the things that happen inside the House and that are inexplicable are copyright to the Trastolillo. As people know that they are things of the Goblin are surprised or frightened.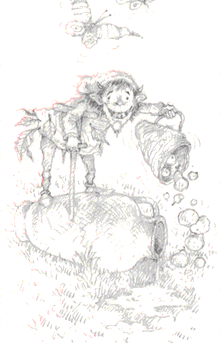 Spanish
Es el más conocido de entre todos los duendes que habitan las casas de Cantabria. Es un duende juguetón y atolondrado que constantemente está riéndose. Es pequeño y de piel morena, con el pelo largo y negro. Altura: 2 pies y Peso: 25 libras
Tiene carita de pícaro y unos ojillos muy verdes, una nariz gorda, dientes grandes, dos pequeños cuernos y un rabillo corto. Viste una especie de túnica que se hace con cortezas de árbol cosidas, se cubre la cabeza con un gorrito blanco y se apoya en un bastón de madera. Todas las cosas que suceden dentro de la casa y que son inexplicables tienen por autor al Trastolillo. Como la gente sabe que son cosas del duende ni se sorprenden ni se asustan.
Ad blocker interference detected!
Wikia is a free-to-use site that makes money from advertising. We have a modified experience for viewers using ad blockers

Wikia is not accessible if you've made further modifications. Remove the custom ad blocker rule(s) and the page will load as expected.