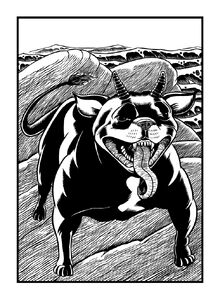 A dog of Urco or Huerco is a characteristic of the Galician and Asturian mythology animal which takes the form of a huge dog, or white or black, with large horns and ears, and that leaves the sea dragging chains. His presence is considered of bad omen, many times ad of a death next.
In Galicia the animal receives the names of Urco, can do Urco and Can do Mar, while in Asturias is called Guercu.
Spanish
Un perro de Urco o Huerco es un animal propio de las mitologías gallega y asturiana que adopta la forma de un perro enorme, o blanco o negro, con grandes cuernos y orejas, y que sale del mar arrastrando cadenas. Su presencia se considera de mal augurio, muchas veces anuncio de una muerte próxima.
En Galicia el animal recibe los nombres de Urco, can do Urco y Can do Mar, mientras que en Asturias se denomina Güercu.
Ad blocker interference detected!
Wikia is a free-to-use site that makes money from advertising. We have a modified experience for viewers using ad blockers

Wikia is not accessible if you've made further modifications. Remove the custom ad blocker rule(s) and the page will load as expected.