Varaha the dwarf, is Vishnu's fifth avatar.
The Three Steps
Edit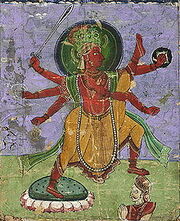 Vishnu descended as Vamana to restore the authority of Indra over the heavens, as it had been taken by Mahabali, a benevolent Asura King. Bali was the grandson of Hiranyakashipu and son of Prahlada.
King Mahabali was generous man, and engaged in severe austerities and penance and won the praise of the world. This praise, from his courtiers and others, led him to think of himself as the greatest person in the world. He believed he can help any one any donate what ever they asked.
Vamana, in the guise of a short Brahmin carrying a wooden umbrella, went to the king to request three paces of land. Mahabali consented, against the warning of Shukracharya. Vamana then revealed his identity and enlarged to gigantic proportions to stride over the three worlds. He stepped from heaven to earth with the first step, from earth to the netherworld with the second. King Mahabali, unable to fulfill his promise, offered his head for the third. Vamana then placed his foot and gave the king immortality for his humility.