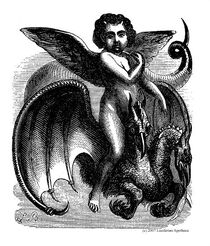 Valac (also Ualac, Valak, Valax, Valu, Valic, Volac) is the mighty Great President of Hell, having thirty legions of demons under his command.
Valac is said to give true answers about hidden treasures; he reveals where serpents can be seen, and delivers them harmless to the magician. He is said to appear as a small poor boy with angel wings riding on a two-headed dragon.
Gallery
Ad blocker interference detected!
Wikia is a free-to-use site that makes money from advertising. We have a modified experience for viewers using ad blockers

Wikia is not accessible if you've made further modifications. Remove the custom ad blocker rule(s) and the page will load as expected.